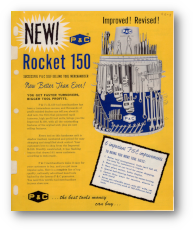 Tonight, under "Other" in the menu…I added two interesting "Self Selling" Merchandiser price lists.  These were big income producers for P&C and could be found in hardware stores across America in the 60's.
The first page advertises the display unit, or "Merchandiser",  and the reverse side lists the prices (dealer and retail), for each of the tools displayed on the Merchandiser.
Wouldn't it be nice to purchase a 3/4″ x 7/8″ open end wrench for $1.99?!   Ahh…those were the days.